360 S7 is a flagship robot vacuum cleaner from 360 Company, designed for smart cleaning of any floor coverings, including medium-pile carpets. Compared with the previous 360 S6, the new robot vacuum cleaner received a number of technical improvements, for example, suction power was increased to 2000 Pa, and dust collector has a capacity of 550 ml. Wet wipe control system was integrated in the wet cleaning module.
Among the new smart features, 360 S7 has restricted areas for wet cleaning, which greatly simplifies the cleaning of rooms with different floor coverings.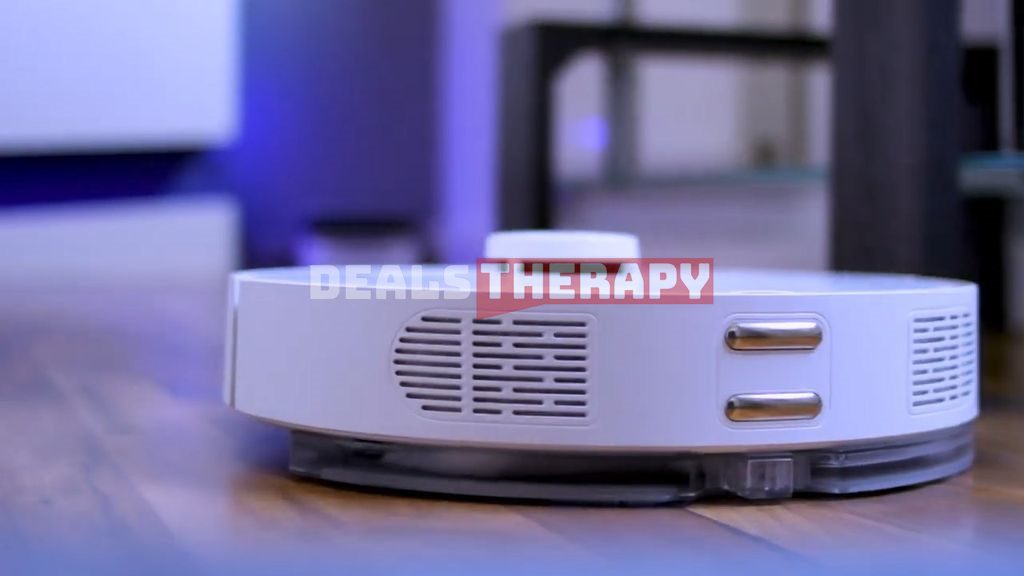 In this review we will analyze the design, specifications and functions of new robot vacuum cleaner. We will also talk about its advantages and disadvantages.
360 S7: Package contents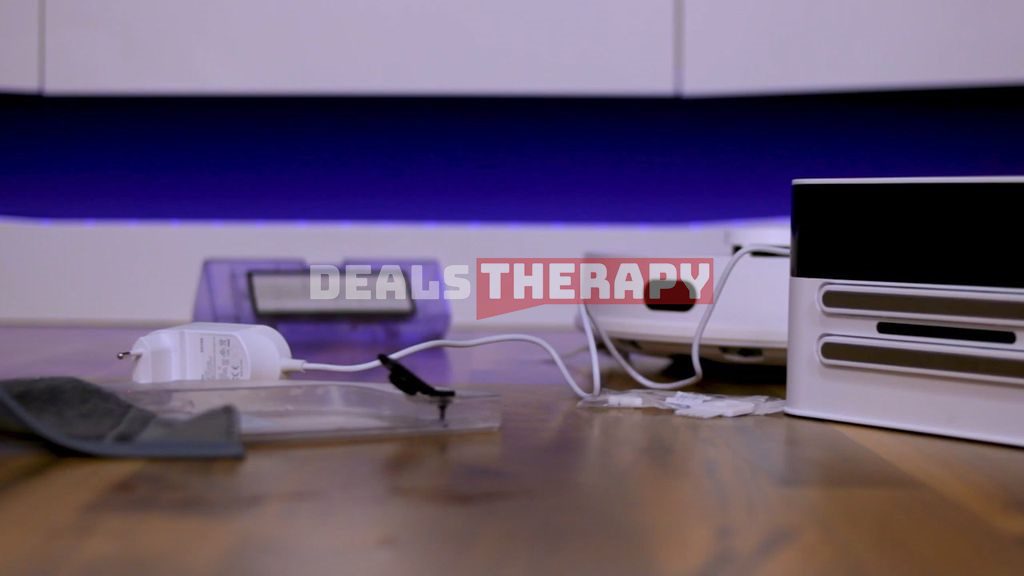 360 S7 comes in a cardboard box with a convenient handle for transportation. The box has a model number and technical specifications of robot vacuum cleaner.
The package contents:
1. Robot vacuum cleaner.
2. Charging base.
3. Power adapter with different types of plugs for sockets.
4. HEPA filter.
5. Water tank with microfiber cloth.
6. Brush for taking caring the robot vacuum cleaner.
7. Instruction manual.
360 S7: Design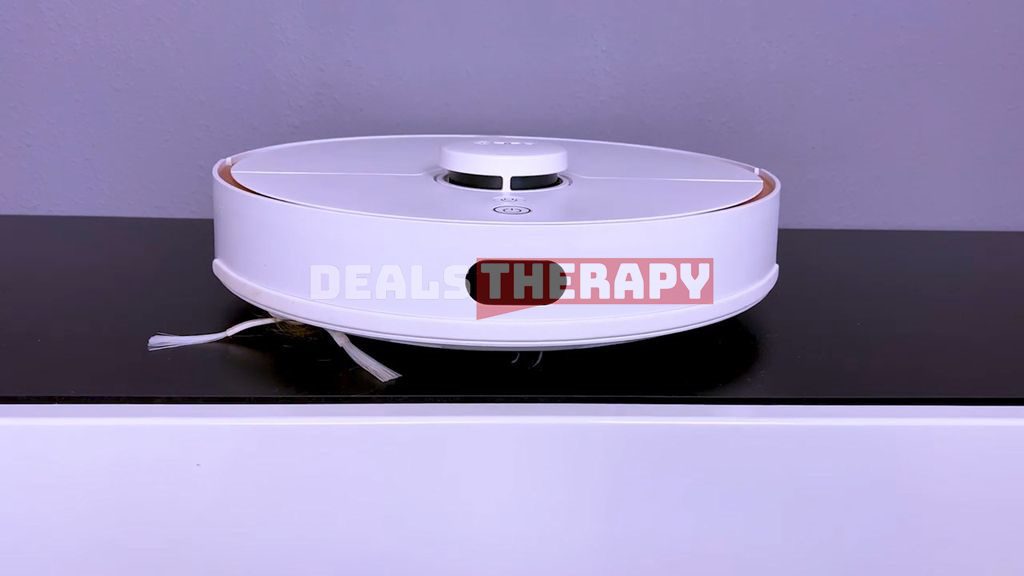 360 S7 exactly repeats the design of previous robot vacuum cleaners from 360 manufacturer, continuing to borrow style from Xiaomi and Roborock. It has a round case with a flat cover, a LIDAR tower and one front brush. The design of the robot vacuum cleaner is restrained: plain white or black plastic with a gold or gray border on the lid.
By the way, you will find a sticker with big eyes in the box. You can put it on the front panel, and thereby give the robot vacuum cleaner a funny look.
The dimensions of 360 S7 also remained the same – 350 x 350 x 100 mm.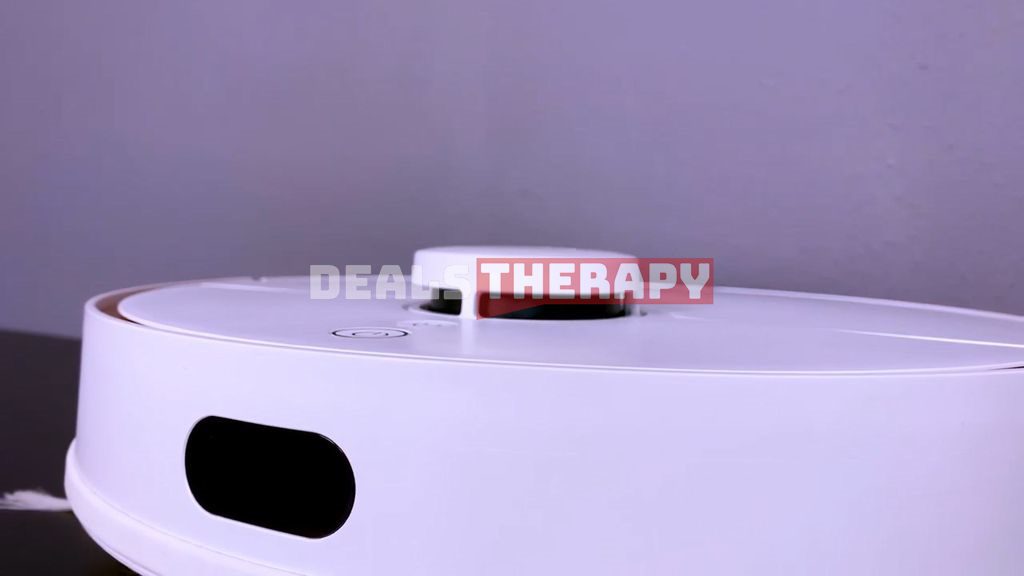 The front panel is visually divided into two parts. Ahead are two buttons with blue backlight: start and return to charging base. Closer to the center, a LIDAR with a tactile sensor rises.
If the robot vacuum cleaner bumps into an obstacle, the sensor fires and turns the vacuum cleaner in the opposite direction, preventing jamming under beds, cabinets and other low places. The back of the front panel is formed by a hinged cover.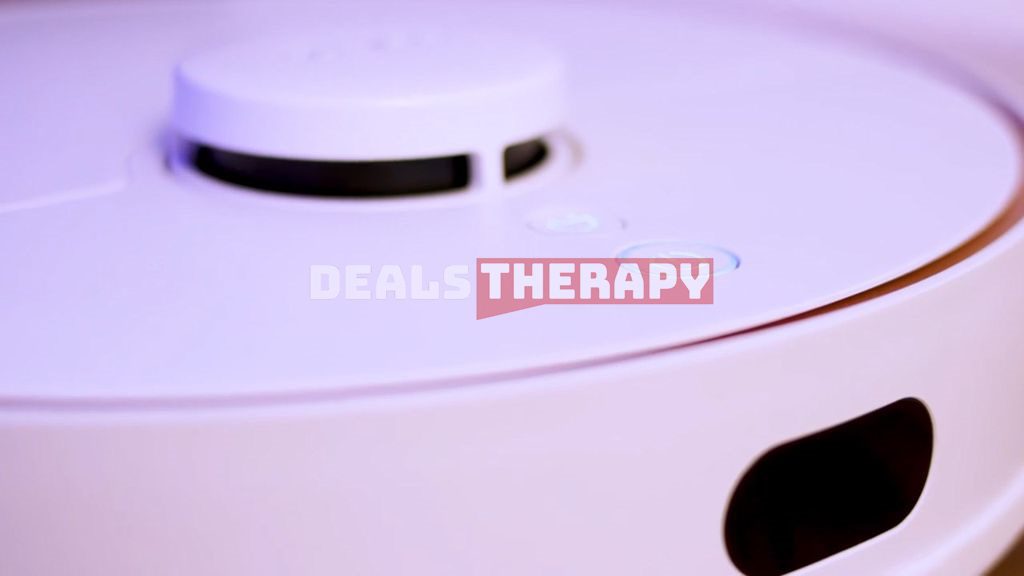 Under the lid, in addition to a dust collector, there are a hair brush, a wireless connection indicator and a reset button. The dust collector is made in the form of a drop-down transparent container with a removable filter frame and a simple suction hole without a check valve.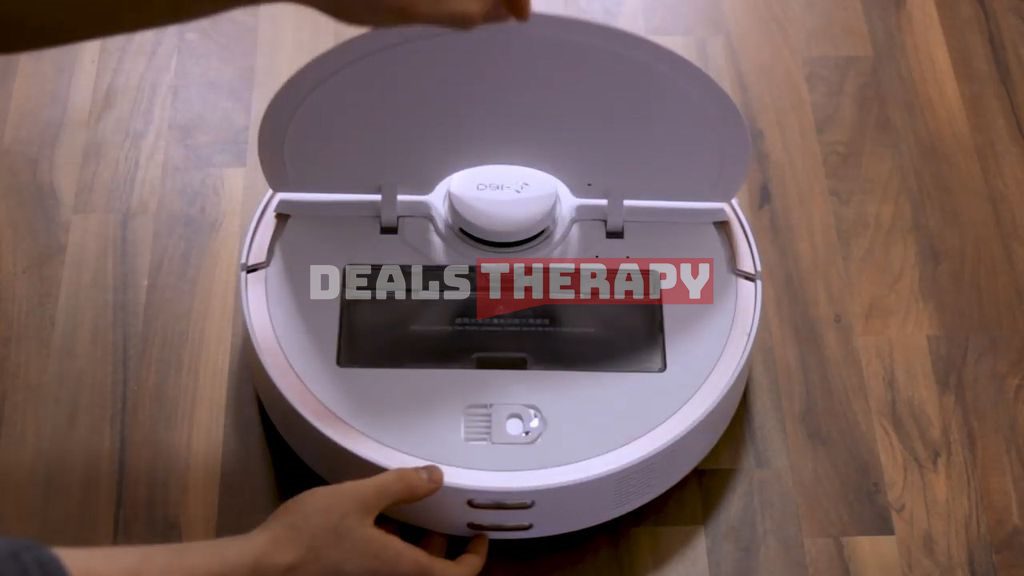 The front part of the body is covered by a spring-loaded bumper with windows for the IR sensor and edge sensor.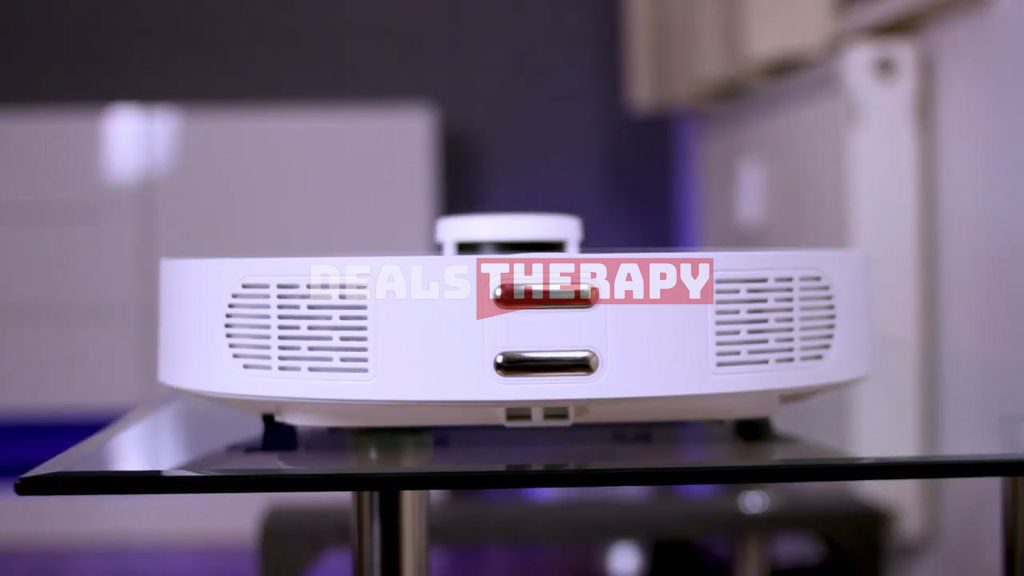 On the rear panel we find the exhaust openings, speaker grill and lateral parking terminals for a compact charging station.
There are standard tools at the bottom:
large rubberized wheels and a small swivel roller;
side brush with self-cleaning system;
working unit with a petal-bristled turbo brush, rubber scraper and two bulkheads on the suction channel;
4 drop sensors (on the sides and in front);
fastenings for the washing cloth.

360 S7: Functions
The new 360 robot vacuum cleaner combines the functions of dry and wet cleaning, sequentially performing 4-stage cleaning:
1. The end brush with the help of the edge sensor sweeps dirt from the walls and edge obstacles on the course of the suction hole. Parasitic forwarding of rubbish is eliminated due to the scraper installed under the bottom and the floating frame of the working unit, which adapts to the relief of the treated coating.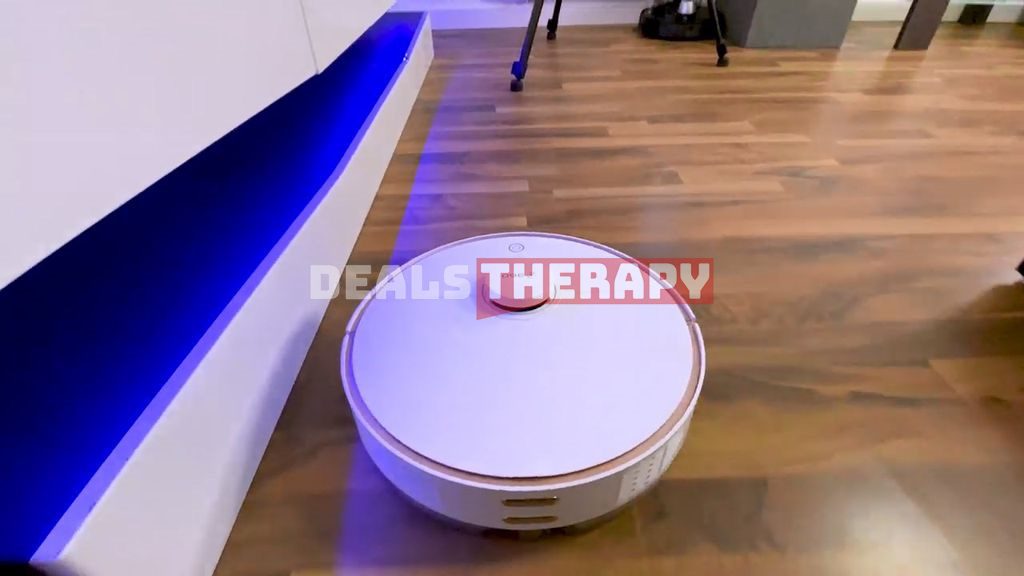 2. Turbo brush performs several functions at once. Firstly, it removes dried mud from linoleum and scoops up sand from cracks in tiles and parquet. Secondly, it strengthens the air flow and throws solid particles into the duct. And thirdly, thick carpets are combed from the wool, wheels with a deep tread and a sloped bottom help to climb onto the vacuum cleaner (maximum height of the threshold to be overcome is 20 mm).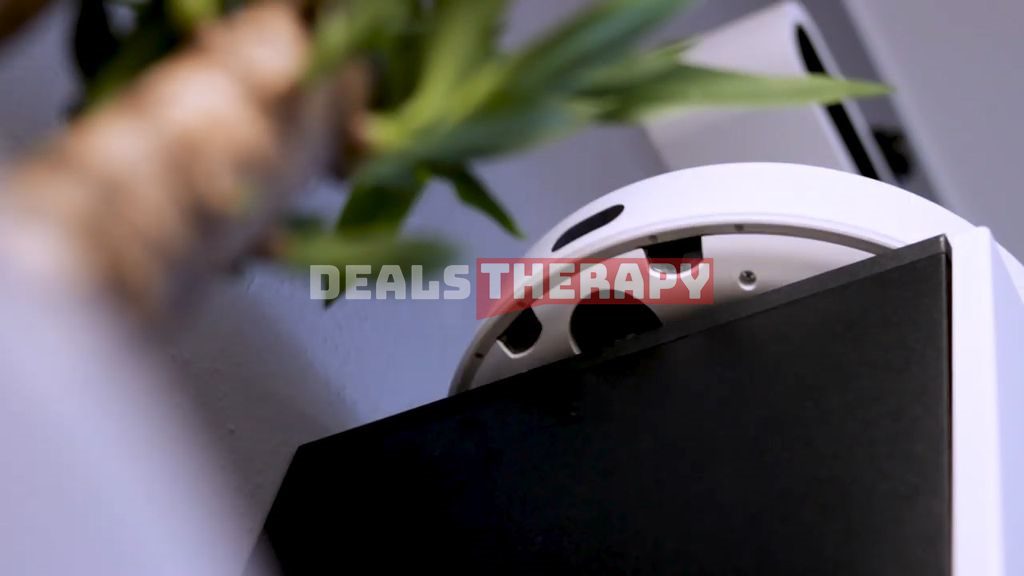 3. The brushless motor creates a vacuum that draws wool, crumbs and small stones into the dust collector. The suction power is regulated through a mobile application (800-1300-2000 Pa) and automatically increases upon arrival on carpet. The noise level of the robot vacuum cleaner, respectively, varies from 55 to 65 dB.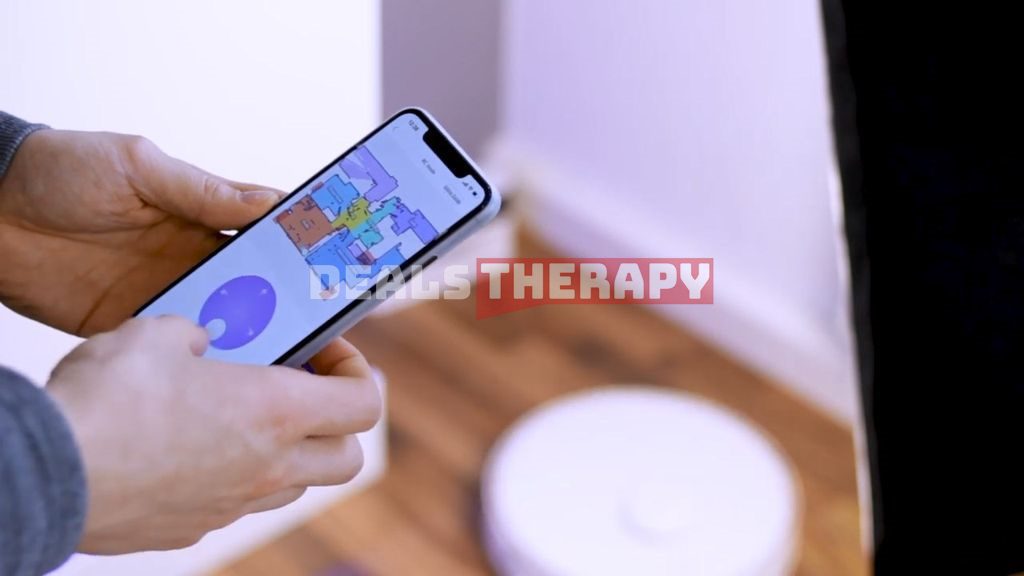 4. If a washing nozzle with microfiber mounted on it is installed under the bottom, following the suction of garbage, the robot vacuum cleaner removes surface dust from the floor. Soaking the napkins from the 150 ml built-in reservoir is controlled by magnetic valves, which allows you to safely prescribe wet cleaning on sensitive wooden coatings – there will be no leaks. Another useful option is the control of the napkin clamp to the floor, which is provided by the contact pad with a stroke of several millimeters.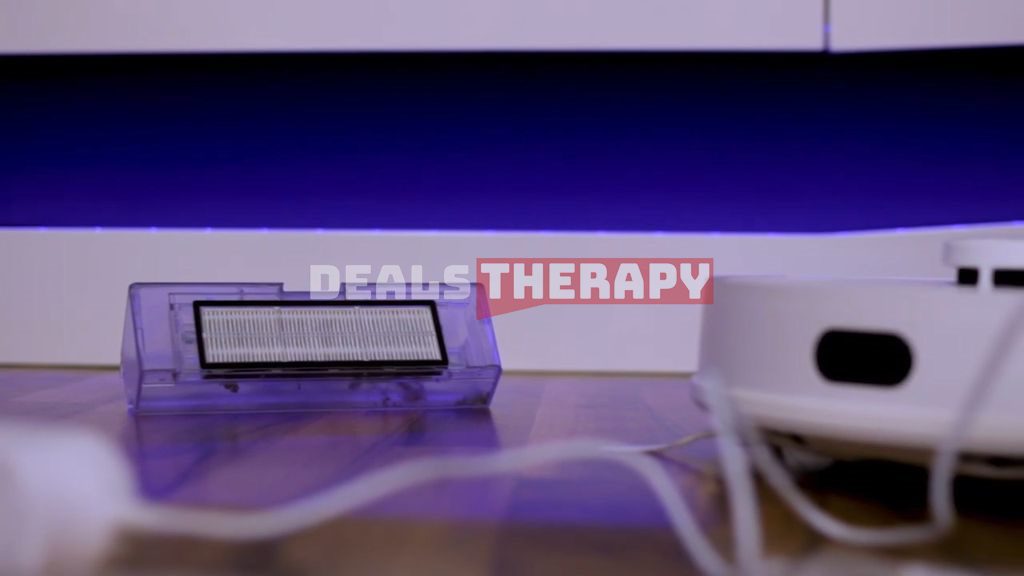 Up to 550 ml of garbage is placed in the dust collector of the robot vacuum cleaner. The outgoing air stream passes through a standard strainer and a porous HEPA filter, which can be washed under the tap.
The operating mode, in fact, is one – automatic, but with a large number of modifiers that are configured through the mobile application:
adjustment of suction power;
contactless cleaning with early avoidance of collisions with obstacles;
manual direction adjustment;
determination of the local cleaning zone on the interactive map, as well as areas for processing
without a mop (zones are defined by rectangles, it is impossible to draw separate lines);
activation of double-pass cleaning;
programming delayed start by days of the week.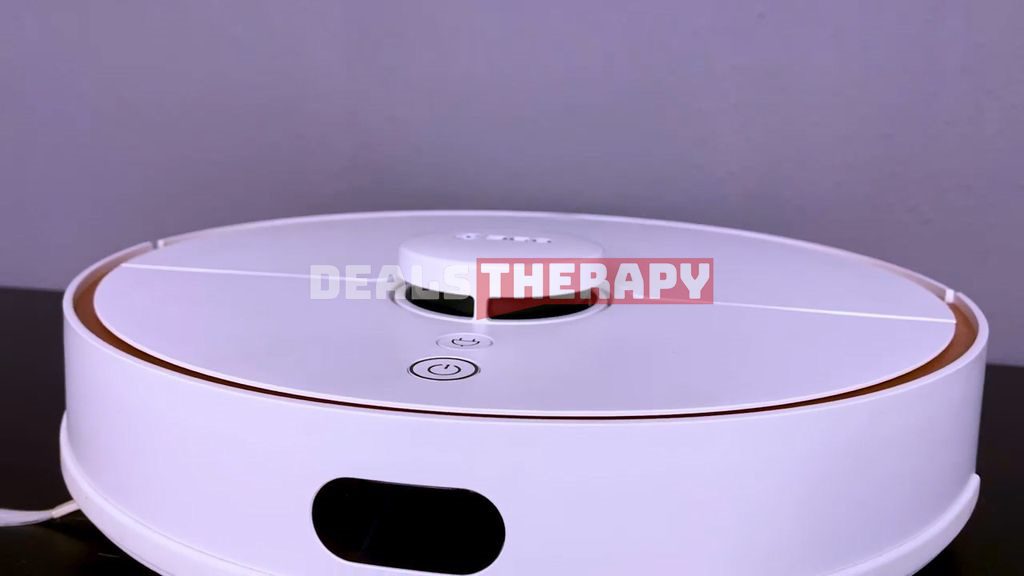 After switching on, 360 S7 scans the room with a laser range finder and simultaneously draws a room map in a mobile application (SLAM technology). The robot vacuum cleaner remembers the treated areas and does not call on them twice (unless a double-pass cleaning is selected).
The preferred path is a zigzag from edge to edge. To avoid collisions with obstacles, the robotic assistant helps the IR sensor in the bumper, in a pinch, the tactile sensor is triggered. Safety sensors near the steps are guaranteed by fall sensors (for correct operation, they must be regularly cleaned with a dry cloth).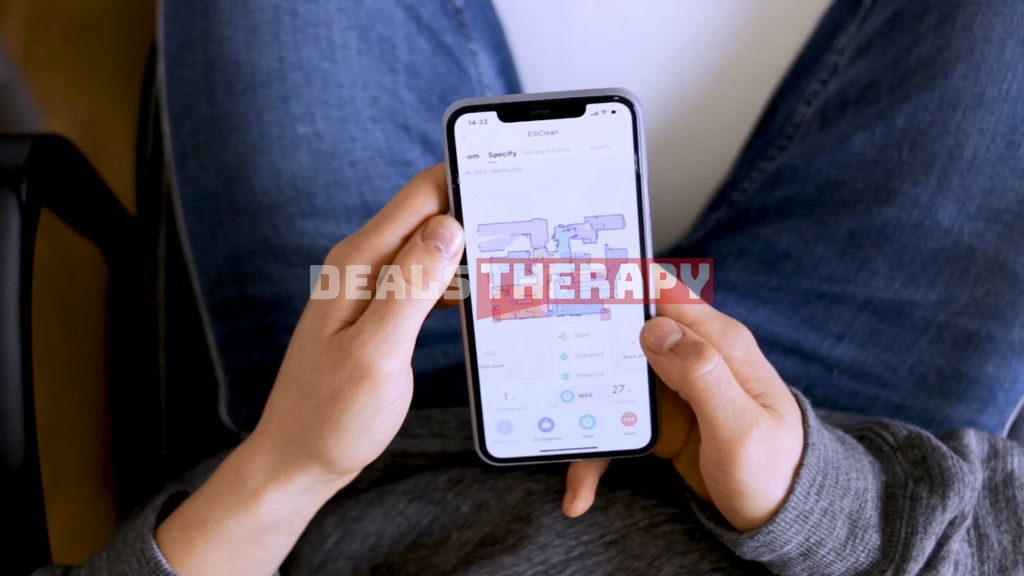 Additional management features include:
zoning of a room with assigning names to rooms;
monitoring wear of working accessories and studying statistics;
search by voice signal (the robot vacuum cleaner supports voice notifications in Chinese or English);
volume control or complete shutdown of sound signals;
Robot control through Amazon Alexa or Tmall Wizard.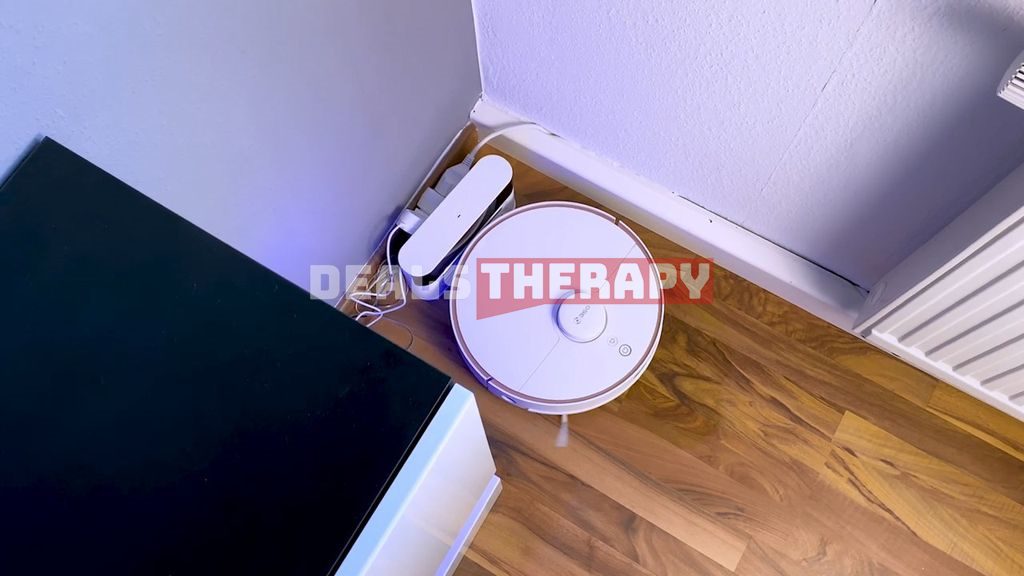 3200 mAh lithium-ion battery allows the robot vacuum cleaner to non-stop vacuum for 120 minutes at an average cleaning speed of 1-1.5 sq/min. If the battery was not enough to clean the entire room, 360 S7 independently recharges at the charging base, and then resumes cleaning from the control point.
Conclusion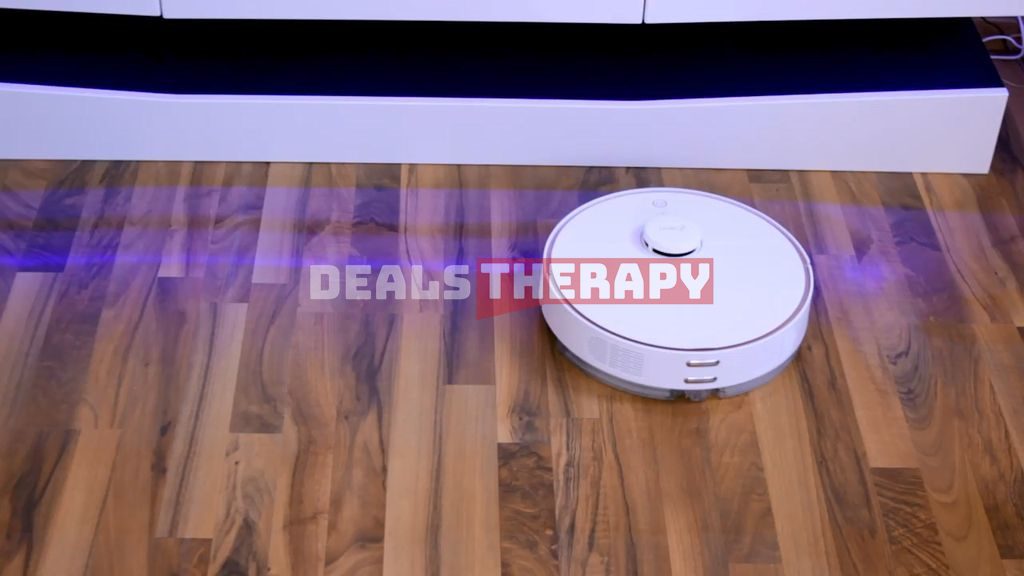 There are no 360 S7 reviews from real buyers yet. However, you can read the comments on Aliexpress. The price on Aliexpress varies starts from $440.
360 S7 is an excellent robot vacuum cleaner for multi-storey buildings; it performs both dry and wet floor wipes efficiently. There is protection against carpets; while mopping, the robot vacuum cleaner will ignore carpets to prevent them from getting wet.
Robot vacuum cleaner is able to clean carpets with low and medium pile, thanks to a powerful motor and overcoming up to 20 mm.
The only disadvantage is the lack of warranty service, but despite robot vacuum cleaner is high-quality, and it should not be broken. 360 S7 is one of the main competitors of Xiaomi Roborock S5 Max in terms of specifications, features and functions.
Product
Specification
Photos
Deals BODY
| | |
| --- | --- |
| Size | 35 x 35 x 10 cm |
| Weight | 3.8 kg |
| Colors | White |
BATTERY
| | |
| --- | --- |
| Battery capacity | 3200mAh |
| Battery Life | 120min |
| Charging time | 3 hours |
| Auto-return and Charging | Yes |
SPECIFICATIONS
| | |
| --- | --- |
| Navigation | LDS |
| Algorithm | SLAM |
| Suction power | 2000Pa |
| Cleaning area | 180m² |
| Mopping function | Yes |
| Dust Box Capacity | 570ml |
| Water tank capacity | 150ml |
| Filter | HEPA |
| Noise | 65dB |
| Control | Alexa, App |
| Functions | 4 Anti-drop sensors, Anti-collision sensor, Auto Switch to Mopping Mode, Carpet Suction Increasing, Off-limit Area Settings Remind, Powerful Obstacle Climbing, Scheduled cleaning, Self-adjusted Main Brush, Set Mopping Off-Limit Area, Smart Identify Room, Spot cleaning |



360 S7 is one of the main competitors of Xiaomi Roborock S5 Max.
360 S7 is an excellent robot vacuum cleaner for multi-storey buildings; it performs both dry and wet floor wipes efficiently.
PROS
Smart LIDAR navigation (LDS).
Building a high-precision room map with SLAM technology.
Save up to 10 maps in memory.
Powerful engine with a suction power of 2000 Pa.
Suction power adjustment.
Several modes of cleaning.
Carpet protection during wet cleaning.
Overcome obstacles up to 20 mm high.
Remote control through the application on the smartphone.
Set up a cleaning schedule and restrict movement in the application.
CONS
One side brush.
Weak package contents, no spare consumables (purchased separately).